You are here
Newsletters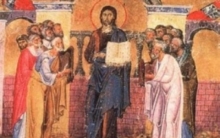 Preview:
Select this image to find Service Sheets and Readings to be used for upcoming Services such as the Holy Communion, and the Daily Office. You can also visit our Sunday Worship and Wednesday services on Facebook Live by following the links below:
Holy Communion - Sunday 10:30 am
     Order of Service Bulletin  (Prints on 8.5" x 14" sheets)
     The Lessons
     The Hymns
Evening Prayer – Wednesday 6:00 pm 
     Printable Service Bulletin "Said"
     Printable Service Bulletin "Sung"
     Psalm of the Day
     The Lessons
Sunday Morning Worship at 10:30 am, in person or on Facebook Live.
Wednesday Evening Prayer at 6:00 pm, in person or on Facebook Live.
Preview:
"I will build my Church", Jesus announced upon Peter's confession. But as He went on to describe the foundation of that building project—how he "must suffer many things" and "be killed"—Peter cannot comprehend how anything can be built upon a rejected stone—upon Christ crucified. And so Jesus takes Peter on a journey to see the pattern on the mount.
"Build all things according to the Pattern", the LORD told Moses. Sacred architecture must follow a revealed pattern because it's not merely the shape of a shelter, but the shape of the people, the shape of the cosmos, the shape of the heart.