About Us
The Beauty of a Historic Liturgy. The Wisdom of a Living Tradition.  And the Foundation of the Holy Scriptures. 
All Saints Anglican Church was formed in continuation of a great tradition of Biblical Preaching and Anglican Liturgy.  In 2010, what had been a prayer fellowship meeting on Saturdays was received into the Diocese of Fort Worth as a mission.  In 2012, Fr. Mark Bleakley was called to be vicar and in 2014 All Saints was able to purchase and begin renovating our present property.  The story behind each of these is miraculous as God has led us through many challenges to grow in faith.   We are grateful to be known for the warmth and generosity of our community.     
We believe that in the midst of a world where every man does what is right in his own eyes, the Church is called to be a witness to that which is Unchangeable.  We gather each Sunday in a pattern of worship that goes all the way back to the New Testament where the early Christians continued steadfastly "in the breaking of bread and in the prayers."  We proclaim the Holy Scriptures as Christ stood in the synangogue and proclaimed its fulfillment in Himself.  And we recognize Christ among us "made known in the breaking of the bread."
Eucharist is the source of our life together that strengthens us and send us out to fulfill our mission to Teach the Faith once delivered unto the Saints, to Witness to God's breath-taking Kingdom, to Serve those in need and to Love one another in the Fellowship of Jesus Christ.      
About the Anglican Church
Tracing its origins through the English Reformation, The Anglican Church in North America carries forward the faith and practice of reformed Catholicism, solidly anchored in the authority of Holy Scripture, Apostolic teaching, the ancient Creeds and Councils of the Christian Church, and the Book of Common Prayer.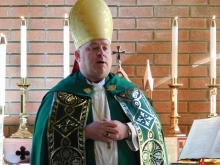 About our Bishop
The Rt. Rev. Ryan Reed was consecrated Bishop Coadjutor September 21, 2019, and became Diocean Bishop on January 1, 2020.
Before his election, Bishop Reed served as Dean of the diocesan Cathedral for 17 years. He holds an under-graduate degree from Texas A&M University, where he belonged to the Corps of Cadets, and a Master's degree from Trinity School for Ministry in Pennsylvania.
_________________________
Rejoice always, pray without ceasing, give thanks in all circumstances; for this is the will of God in Jesus Christ for you. I Thess 5:16-18